6 stylish ways to wear leather jackets at work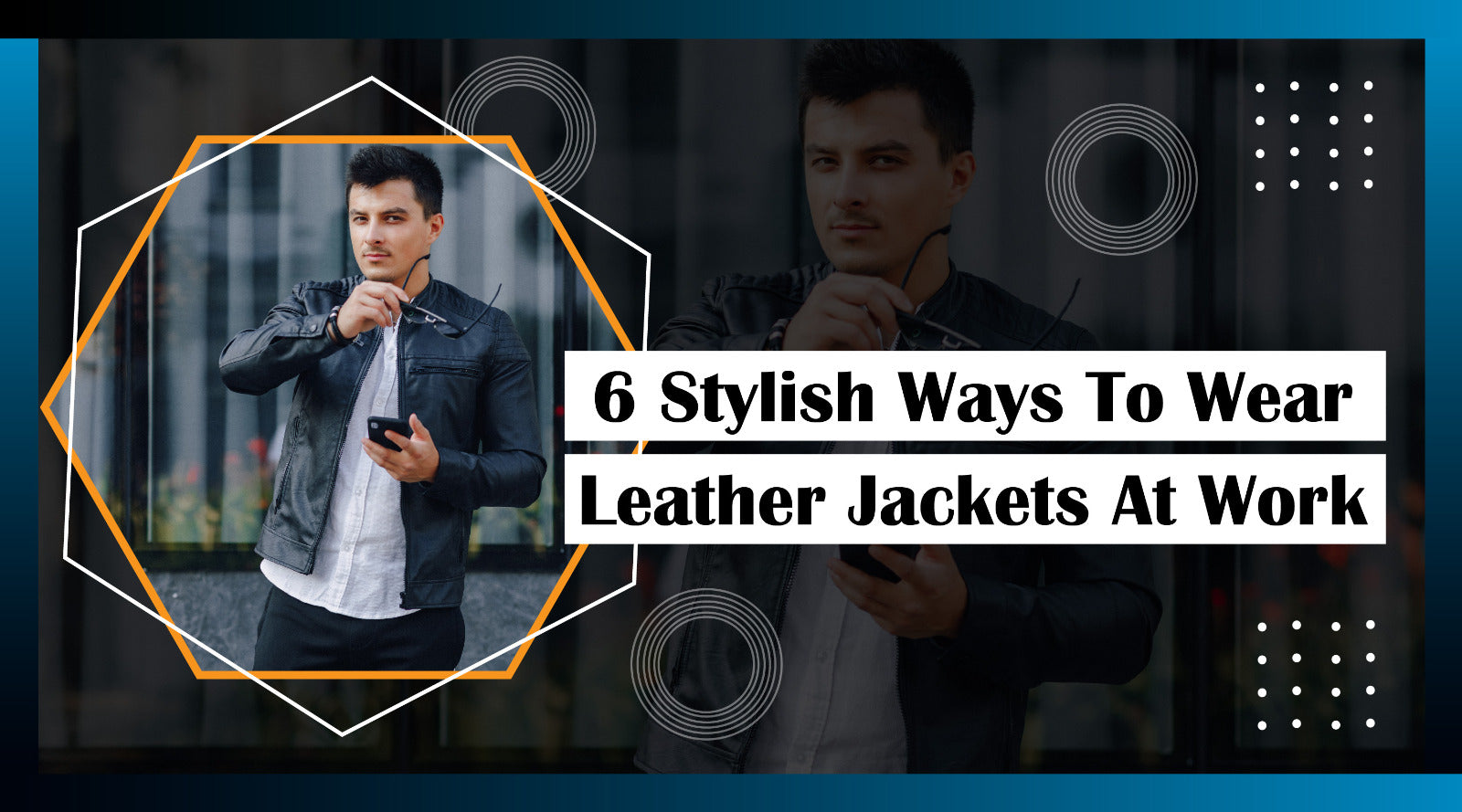 When it comes to workwear, leather jackets might not be the first thing that comes to mind. However, incorporating these stylish and versatile pieces into your office attire can add a touch of sophistication and edge to your look. In this blog post, we will explore six fashionable ways to wear leather jackets at work, ranging from classic and tailored outfits to creative expressions that showcase your personal style.
Classic and Tailored:
For a timeless and polished ensemble, pair a black leather jacket with crisp white button-down and tailored trousers. This combination exudes professionalism while adding a hint of edginess to your look. To define your waist and create a more put-together appearance, cinch the jacket with a belt. Opt for a sleek leather jacket with minimal embellishments to maintain a professional aesthetic.
Layered Sophistication:
Layering is key to achieving a sophisticated and stylish outfit. Wear your leather jacket to work over a blouse or lightweight sweater to add warmth and depth to your ensemble. Pair it with a pencil skirt or dress pants to elevate the overall look. To take it a step further, incorporate a statement necklace or a colorful scarf that complements your outfit, giving it an extra touch of sophistication.
Casual Chic:
If your workplace has a more relaxed dress code, you can still rock a leather jacket while maintaining a chic and polished vibe. Style your leather jacket with a crisp white t-shirt and a pair of dark-wash jeans. This combination strikes the perfect balance between casual and put-together. Complete the look with ankle boots or heels to elevate your outfit. Consider opting for a colored or textured leather jacket to add visual interest and make a statement.
Creative Expressions:
Embrace your personal style and experiment with different leather jacket styles, such as a moto or bomber jacket. These variations offer a unique and trendy twist to your work attire. To showcase your creativity, incorporate bold patterns or prints in your outfit. Pair your leather jacket with unique accessories like statement earrings or a wide-brimmed hat, allowing you to express your individuality while still looking professional.
Professional Edge:
For a more formal setting, you can still incorporate a leather jacket into your work wardrobe. Pair it with a tailored skirt suit or pantsuit to infuse a touch of edge and modernity. Opt for a structured leather blazer that adds sophistication and professionalism to your overall look. Ensure that your jacket fits well and complements the tailored silhouette of your suit, maintaining a polished appearance.
Business Casual:
In a business casual environment, a leather jacket can be the perfect addition to your outfit. Pair it with a blouse and tailored trousers or dark jeans for a chic and versatile look. Choosing a neutral-toned leather jacket allows for easy pairing with different colors and patterns. Accessorize with a structured handbag and minimal jewelry to complete your business casual ensemble.
Final Word:
Incorporating leather jackets into your workwear opens up a world of stylish possibilities. We have explored six different ways to wear leather jackets at work, ranging from classic and tailored outfits to creative expressions of personal style. Remember to maintain professionalism while experimenting with different combinations. Embrace your unique style, and let your leather jacket become a statement piece in your work wardrobe. With these stylish ideas, including wearing a leather jacket over hoodie, you'll confidently rock a leather jacket while looking chic and professional at the office.
Frequently Ask Questions
1. Can I wear leather jacket to job interview?
While a leather jacket can be stylish and versatile, it may not be the most suitable choice for a job interview. It's generally recommended to opt for more traditional and professional attire when attending an interview. Consider wearing a well-fitted suit, a blazer, or a tailored dress instead. These options will help you make a positive and polished impression on your potential employer.
2. Can I wear leather jacket for business casual?
Yes, you can wear a leather jacket for a business casual dress code. It adds a stylish and edgy touch to your outfit while still maintaining a professional appearance. To create a business casual look with a leather jacket, pair it with items like a button-down shirt, tailored pants or skirts, and dress shoes or boots. However, be mindful of the workplace culture and specific dress guidelines, as business casual can vary between different industries and companies.